TOP > About us
Corporate Philosophy
Nippon Talc Co., Ltd. was founded in 1934 as a specialized manufacturer of talc products. Since then, we have been focused on research and development with a unique manufacturing technology. We have grown over the years by making the most effective use of talc and creating continuously new products.
Nowadays, our talc products are widely used from day-to-day products to complex industrial applications.
Our motto, "Harmonious coexistence between humankind and natural resources", is our strong desire to effectively utilize limited natural resources (TALC) and make a positive contribution to society thanks to our specific technology.
Nippon Talc Co., Ltd.
Masafumi Iori, President
Company Profile
Company name

NIPPON TALC CO., LTD.

Head Office

3-1-17 Saiwai-cho, Naniwa-ku, Osaka 556-0021, Japan / Tel. (+81) 6-6567-2735 Fax (+81) 6-6567-2730
Representative

Masafumi Iori, President

Founded

July 1, 1934

Paid-in capital

100 million yen
Offices/Plants
Tokyo Office

2-10-8 Kandatsukasa-cho, Chiyoda-ku, Tokyo 101-0048, Japan / Tel. (+81) 3-3257-3851 Fax. (+81) 3-3257-3856
Osaka Plant
Katsuta Plant
Tomakomai Plant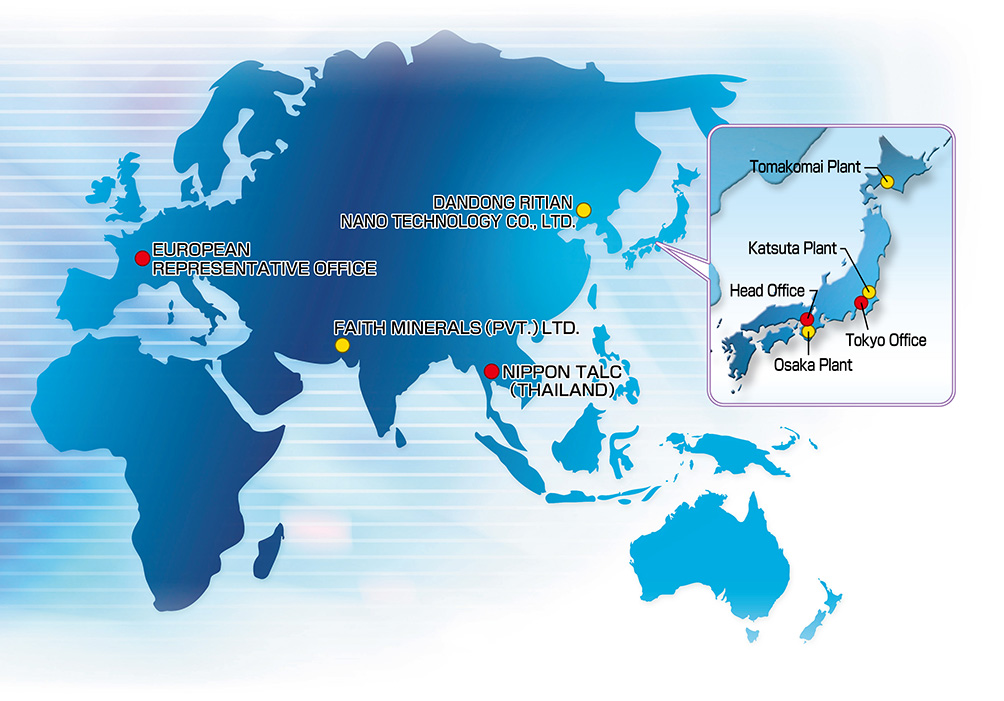 Overseas bases
DANDONG RITIAN NANO TECHNOLOGY CO., LTD.

BANSHI VILLAGE, JINKUANG HANDLE AFAIRS OFFICE, ZHEN'AN DISTRICT, DANDONG, LIAONING, CHINA
TEL:+86-415-237-6022 / FAX:+86-415-6138895
(Production capacity : 50,000 tons/year)

NIPPON TALC (THAILAND) CO.,LTD.

120 Kasemkij Building, 6th Floor, Room No.606, Silom Rd., Suriyawongse, Bangrak, Bangkok, 10500 THAILAND
TEL +66-2-6328074

FAITH MINERALS (PVT.) LTD.

PLOT NO. 7,8,18,19,SECTOR E-5 PHASE-2, KEPZ LANDHI KARACHI,PAKISTAN
TEL:+92-21-35082240
(Production capacity : 30,000 tons/year)

European Representative Office

11 rue Mittlerweg, CS 90015, 68025 COLMAR Cedex France
TEL: +33-3-89.29.28.06(International) / 03.89.29.28.06 (from France)
FAX: +33-3-89.20.43.79(International) / 03.89.20.43.79 (from France)
Person in charge: Mr. Alain DECAYEUX (Business & Product Development)
History
| | |
| --- | --- |
| 1934 | Nippon Talc Co., Ltd. was founded. Seishichi Shikata was appointed the company's first president. |
| 1955 | Tokyo Office was opened. |
| 1966 | Tomakomai Plant was constructed. |
| 1969 | Katsuta Plant was constructed. |
| 1979 | Talc mine development in Guangxi Province, China, as a Japan-China compensation trade project. |
| 1982 | Expanded the laboratory (in Osaka Plant). Enhanced quality management and R & D. |
| 1987 | Established a jet mill in Katsuta Plant. |
| 1990 | Established a roller mill in Tomakomai Plant. |
| 1995 | Established compression facilities in Katsuta Plant. |
| 1996 | Established classification facilities in Katsuta Plant. |
| 1997 | Established ultrafine-powder talc production facilities in Katsuta Plant. |
| 1999 | Established food additives production facilities in Katsuta Plant. Acquired a production license. |
| 2002 | Katsuta Plant acquired ISO9002 certification. New Osaka Plant was constructed. |
| 2003 | Head Office, Tokyo Office, Osaka Plant, and Katsuta Plant acquired ISO9001 certification. |
| 2006 | Established surface treatment facilities in Katsuta Plant. |
| 2007 | NANO ACE was put on sale. |
| 2010 | Established a joint venture in China. (DANDONG RITIAN NANO TECHNOLOGY CO., LTD.) |
| 2012 | DANDONG RITIAN NANO TECHNOLOGY CO., LTD was changed from joint venture to subsidary 100% owened by NIPPON TALC CO., LTD. |
| 2013 | Established NANO ACE production facilities in Tomakomai Plant. |
| 2014 | Established a subsidiary in Thailand. (NIPPON TALC(THAILAND)CO.,LTD.) Tomakomai Plant acquired ISO9001 certification. |
| 2015 | Established a joint venture in Pakistan. (FAITH MINERALS (PVT.) LTD.) |
| 2017 | Nippon Talc (Thailand) Rayong Warehouse was constructed. |
| 2018 | Opening an European Representative Office in France. |
| 2022 | FAITH MINERALS (PVT.) LTD. was changed from joint venture to subsidary 100% owened by NIPPON TALC CO., LTD. |