TOP > Research & Development / Quality Control
Research & Development
IT and other technological innovation is making progress rapidly today. On the other hand, the efficient utilization of natural resources to protect the global environment has become a theme of vital importance.
Believing since the foundation of Nippon Talc that the efficient use of talc will contribute to society, We have been focusing on research and development and responding to the demand of the times and users' needs. One of our efforts is the development of NANO ACE .
We will continue making efforts toward the development of new products and establishment of new technology, including the development of a variety of raw materials and the evaluation of new processing technology, in order to respond to a wide range of needs.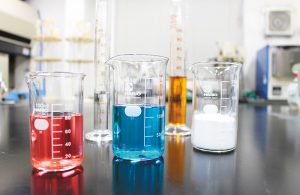 Quality Control
In order to provide high-quality products stably, We have been using cutting-edge test equipment and making a high-precision analysis at each stage, ranging from the acceptance inspection stage of raw materials to the process inspection stage and final inspection stage of products.
We considers that the techniques, knowledge, and attitude of each worker at every stage, ranging from the acceptance stage of raw materials to the shipment stage of products, make product quality, and focuses on employee education.
As a member of society, We always check the conformance of its environment, health, and safety conditions with laws and regulations and maintains a thoroughgoing management system.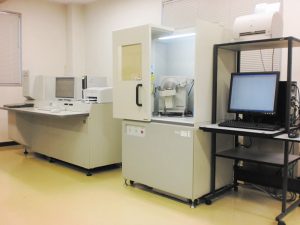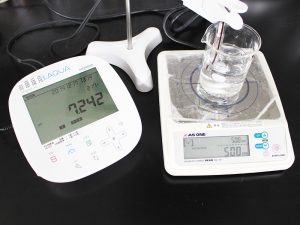 Main test equipment
Test Item
Analytical and Measuring Instrument
Analysis method
Qualitative analysis
SHIMADZU CORPORATION
X-ray Diffractometer "XRD-6100"
X-ray diffraction
Quantitative analysis
SHIMADZU CORPORATION
X-Ray Fluorescence Spectrometer "XRF-1500"
X-ray Fluorescence
AMETEK Co., Ltd
EDAX Genesis APEX2
Energy dispersive X-ray spectrometry
Scanning Electron Microscopes
Hitachi High-Technologies Corporation
SU1510
Hue analysis
TokyoDenshoku.co.,Ltd.
Color Meter "TC-1500MC"
JIS・Z8722
Nippon Denshoku Industries Co.,Ltd
Color Meter "Z-300A"
JIS・Z8722
Color Meter "SE-2000"
Color Meter "SE-7700"
Whiteness
Toyo Seiki Seisaku-sho, Ltd.
Digital Hunter ST
Hunter method
TokyoDenshoku.co.,Ltd.
Photovolt "TC-6D"
JIS・Z8722
Particle size analysis
SHIMADZU CORPORATION
SALD-2000J
Laser Diffraction
SHIMADZU CORPORATION
SALD-2300
Laser Diffraction
MicrotracBEL Corp.
Microtrac MT3300EXⅡ
Laser Diffraction
Residue on sieve
IIDA CO.,LTD.
Tyler's standard sieves 
JIS・K5101
Wear volume
NIPPON FILCON CO., LTD.
Wear tester by NF method
NIPPON FILCON method
NIPPON TALC CO., LTD.
Wear tester by lead ball
–
Specific surface area
SHIMADZU CORPORATION
FlowSorb 2300
BET method
SHIMADZU CORPORATION
SS-100
Air permeability method
Viscosity
TOKYO KEIKI INC.
BH&BL Viscometer
JIS・K5101
EKO Instrument Co., Ltd.
Brookfield Viscometer "LVT"
–
Interface analysis
Kyowa Interface Science Co., LTD.
Drop Master 300
–
pH
HORIBA, Ltd.
F-51
JIS・K5101
HORIBA, Ltd.
F-71
JIS・K5101
Moisture
SHIMADZU CORPORATION
STAC-P400M
JIS・K5101
MASUDA CORPORATION
SA-30
JIS・K5101
Loss on ignition
MASUDA CORPORATION
NMF-215
JIS・K5101
Advantec Toyo Kaisha, Ltd.
OTM-16D
JIS・K5101
Yamato Scientific Co., Ltd.
FO300
JIS・K5101
Bulk specific volume
–
Ishiyama type
–